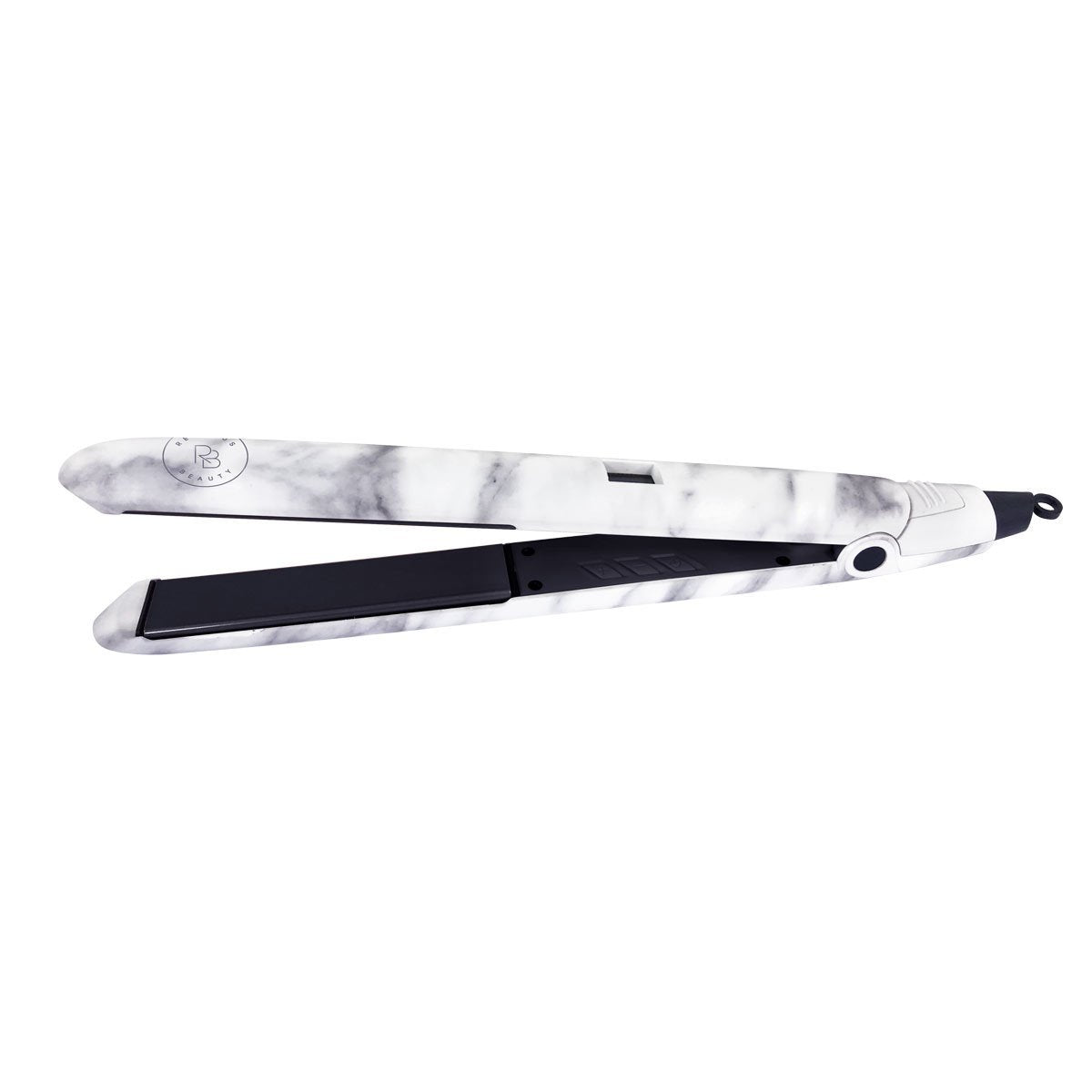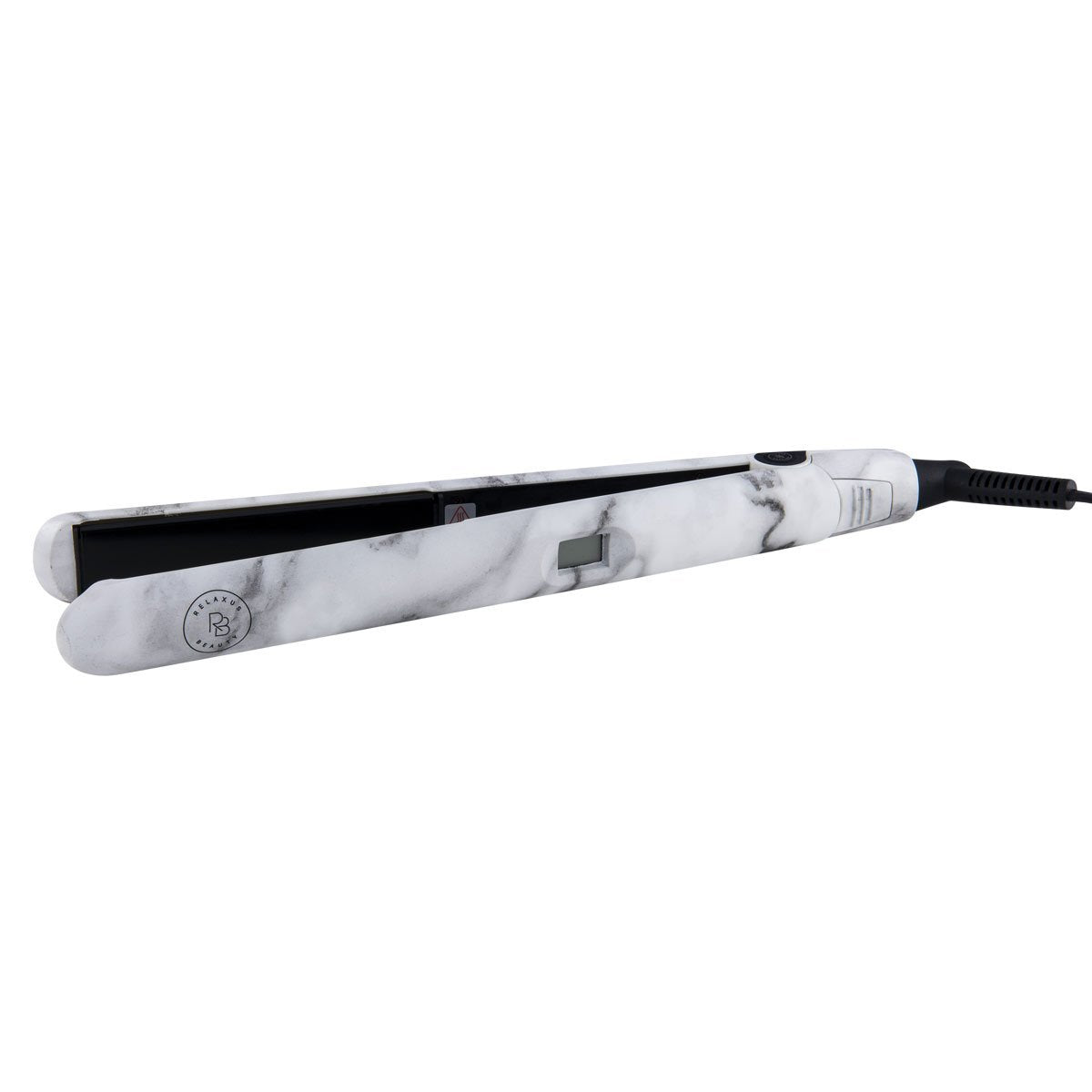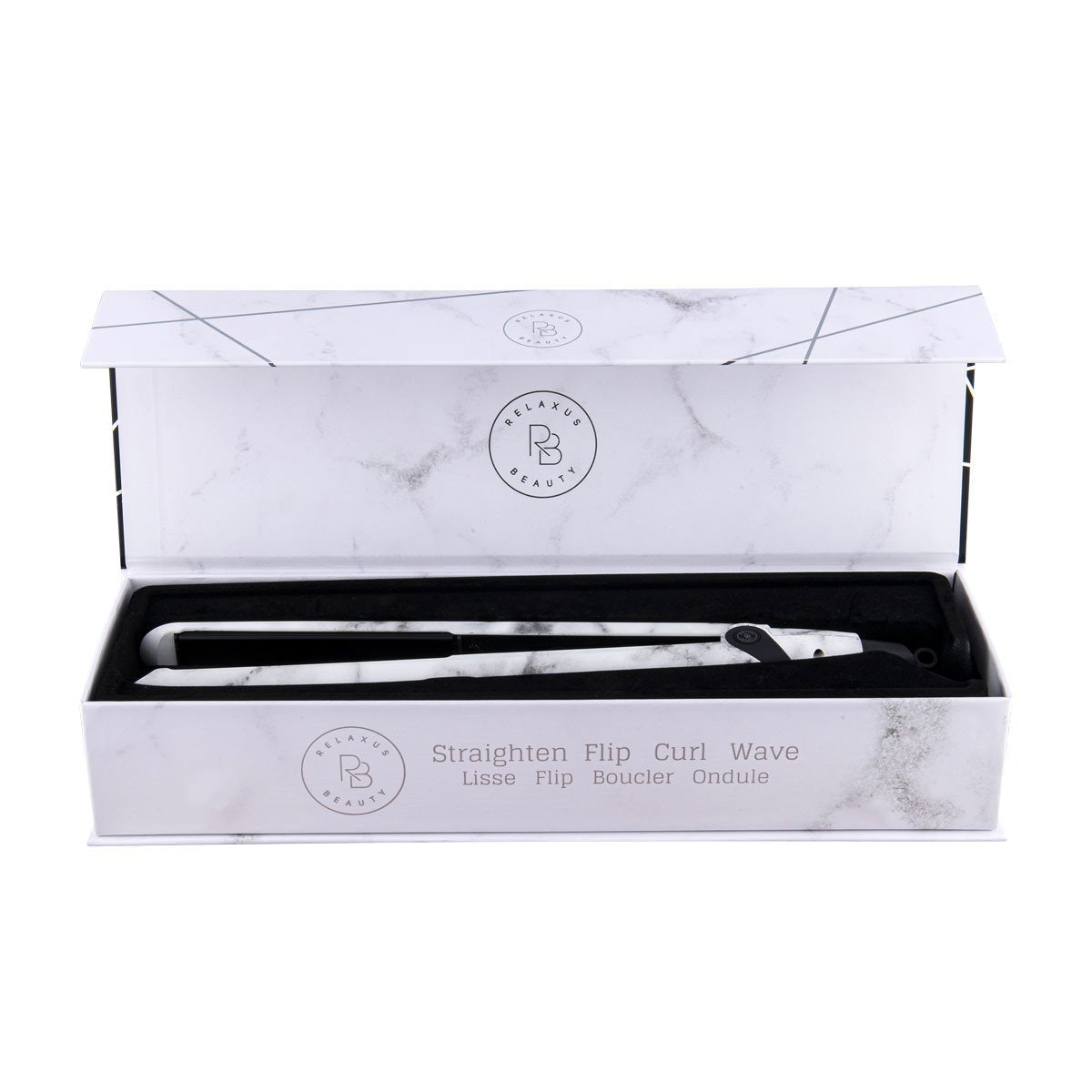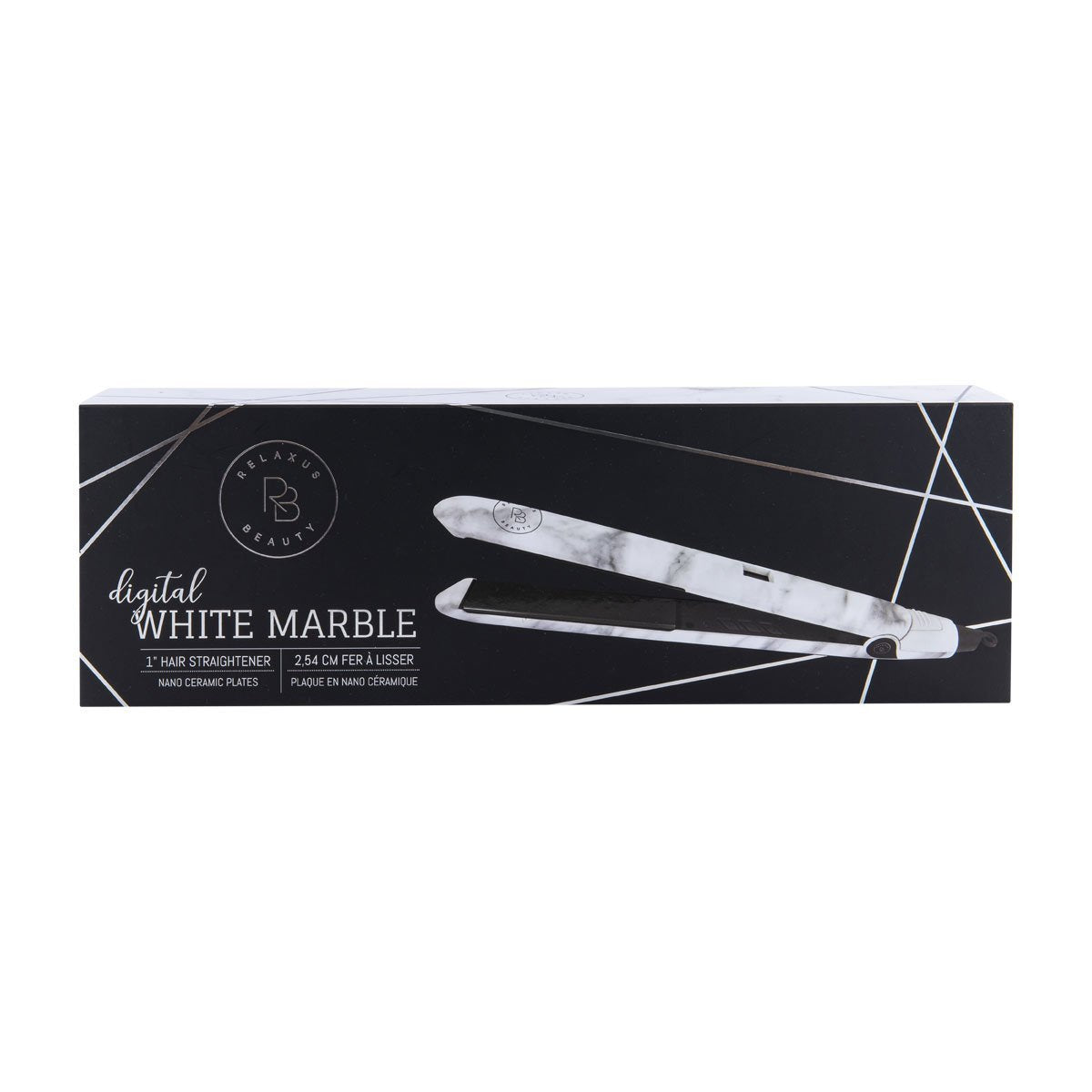 White Marble Digital Ceramic Hair Straightener
Regular price

Sale price

$50.00 USD

Unit price

per
Free standard shipping on orders over $99
Shipping Hair Dyers to the USA
The White Marble Digital 1" Ceramic Hair Straightener features nano-sized particles of ceramic that create a smooth, gliding surface for effortless salon looks. Far-infrared heat gives a healthy shine to your hair, sealing the cuticle and eliminating frizz. This versatile styling iron is equipped with an LCD digital control for customized heat temperatures for every hair type. Pin straight, flipped out, wavy, or curled—experiment and play with different hairstyles.
Product Features 
Advanced 100% Ceramic Plates for Unparalleled Performance: Immerse your hair in the ultimate hair straightening experience with our White Marble Digital Ceramic Hair Straightener. Crafted with precision, the 100% ceramic plates ensure superior heat distribution, leaving no room for uneven heating spots. Revel in perfectly sleek, straight locks or create stunning curls with absolute ease.
Versatile Temperature Range of up to 460°F (237°C): Experience the power of temperature control with our hair straightener, offering a wide range of up to 460°F (237°C). Whether your hair is fine, thick, or curly, this remarkable temperature range caters to all hair types, ensuring optimal styling results that complement your unique hair needs.
Auto Shut-Off: Relish Peace of Mind: Say goodbye to any worries or anxiety over accidentally leaving your hair straightener on, thanks to the intelligent auto shut-off feature. After 60 minutes of inactivity, the straightener will automatically turn off, offering you the gift of peace of mind, especially during those rushed mornings or busy days.
Ergonomic Design: Styling Made Comfortable: Embrace the epitome of comfort and ease with our hair straightener's lightweight ergonomic design. This thoughtfully crafted hair tool fits snugly in your hand, ensuring effortless and comfortable styling sessions that leave you with flawless results, minus the fatigue.
Dual Voltage: A Global Traveler's Dream: Wanderlust knows no bounds, and neither should your hair styling capabilities. Our White Marble Digital Ceramic Hair Straightener boasts dual voltage (110V – 240V), making it a seamless travel companion that adapts to any voltage requirements worldwide. Indulge in stunning hairstyles wherever your adventures take you.
Innovative Nano-Sized Ceramic Particles for Silky Glide: Glide through your hair with ease, courtesy of our hair straightener's revolutionary nano-sized ceramic particles. Experience an effortless, smooth glide that tames frizz, reduces hair damage, and leaves your locks radiating with luminous shine.
Tailored Digital Temperature Control for Your Hair Type: Tailor your hair styling experience to your specific hair type with our adjustable digital temperature control. Whether you desire a delicate touch for fine hair or a stronger heat for thicker tresses, this hair straightener offers a personalized approach to your unique hair needs.
Safety Lock Switch: Convenient Storage Solution: We understand the importance of convenience and safety, which is why our hair straightener features a safety lock switch. After use, simply activate the safety lock switch for effortless storage, ensuring your hair straightener stays safe and secure until your next styling adventure.
1 year warranty (Register within 30 days of purchase).
We currently only ship in Canada and USA.
Please allow 1-3 business days for order processing.
All orders are processed and shipped on business days only, Monday through Friday, excluding major holidays. Orders placed on Saturday or Sunday are processed on the following business day.
Flat-rate Shipping in Canada and the USA.
FREE Shipping on orders over U$99.00 after discounts and taxes.
Shipping Hair Dyers To The USA: Unfortunately, at this time, we cannot ship Hair dryers to the USA.
Our office, warehouse and Vancouver store/ showroom will be closed over the holiday period from Monday, December 26th until Tuesday, January 3rd, when we will start processing orders again.
We will continue to accept orders online, but they will be processed from January 3rd, not between December 26th and January 2nd.
Please ensure you place your orders, ideally in advance of the following cut-off dates.
Side note: these dates are subject to change if adverse weather conditions impact our ability to ship orders.
British Columbia: Monday, December 19th. 
All other provinces: Friday, December 16th.

Washington, Oregon, Idaho,

 Thursday, December 18th. 
All other states: Friday, December 15th.
Thank you, if you have any queries or questions, don't hesitate to Contact us.
Danger
Do not use styling tools in the presence of water or while bathing, showering or washing. If the styling tool falls into water while plugged in, do not retrieve it unless the primary power source shut off. Never use styling tools with bare or wet feet, as this could cause electrical shock or injury.
Burns
The styling tool is sweltering hot and can burn your skin. Do not touch any heated element while the styler is plugged in. Be sure to give the styling tool sufficient cooling time.
If you do experience a burn, stop styling and tend to it immediately. Always use a heat resistant protection glove for hair styling if offered.
Be sure to turn the styling tool "off" after every use. Never leave a styling tool unattended when plugged in or turned "on".
Do not set a styling tool down near flammable surfaces or on top of delicate materials, plastics or any other materials sensitive to heat.
If you must set the styling tool down while plugged in, do so only on a heat resistant surface.
Defects
Always inspect your styling tool before use and do not use if any section appears to be damaged.
Don't hesitate to get in touch with us for any warranty repairs.
Relaxus Beauty is not responsible for any damages caused by improper or unintended use.
Any warranty claim requires an original purchase receipt and detailed pictures of your styling tool.
Storage
When you finish using your styling tool, unplug it and give it time to cool before storing.
Do not wrap the cord around your styler, as this may loosen the connection or cause fraying. Handle the cord gently and avoid sharp bending and twisting.
Store in a safe, dry location for future use, out of children's (and pets) reach.